If you want to make your mobile app succeed, you need to get a great user experience (UX). It is useless to have a good idea if you are not capable of showing it to your users.
While I was defining and structuring my last mobile app, I repeated and repeated what I consider the main goal: keep it simple.
1. Keep it simple
A mobile app should be simple and easy to use for someone who has never use it before, this is, user friendly. The most important features should be identified intuitively and quickly accessed. This is the starting point and despite being obvious, my experience shows that it is frequently forgotten. For example try to avoid creating deep navigation hierarchies.
This simplicity goal can be achieved by selecting an appropriate pattern to structure our application. This pattern depends on your specific needs.
2. Consider recommended patterns
Consider using the design patterns published in the mobile developer guides. Native applications and the operative system itself follow these patterns, so do a lot of other mobile applications. Users are used to navigating through different applications in a similar way. If your application behaves differently, users may get confused. As Android developer guide says, if it looks the same, it should act the same.
Check iOS user experience guidelines and Android design patterns.
3. Basic functionality
We tend to fill empty spaces and insert as much information and options as possible. We also tend to add a lot of features that are probably not useful to the users. These additional features delay the app publication date and what it is worse, they make our app more complex. When the definition is done in coordination with the clients or non-technical people, they will suggest more features: "Why don't we add here this…?", "Where can we include this function…?", "I saw this other app that does…", "Let's develop some augmented reality functionality, it's so cool…".
I think that the best approach is to wait until the app is stable enough, and then start improving it by adding new features. This new features will come up as we use the app day by day.
4. Multiple screens
There are devices in a wide variety of screen sizes and form factors. Scale your app from large tablets to smaller phones, portrait or landscape mode, and focus your efforts on the most common screen sizes. Take a look at the Android dashboards.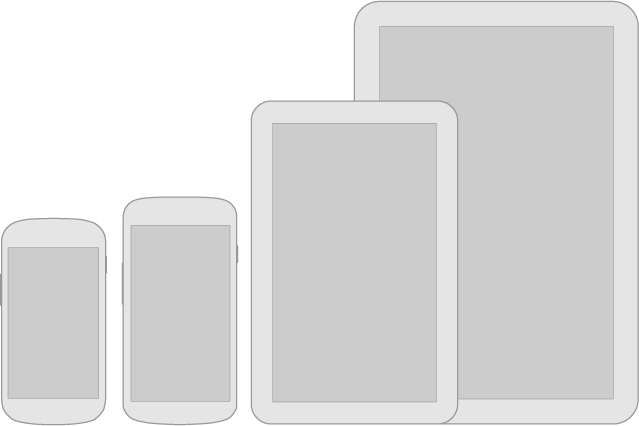 5. Minimize the user effort
Help the user to use your application. Keep form data or the parameters configured in the last search, this will minimize the effort needed to use the app.
The most important data to be stored is the login data. Remember your user. But be careful not to hide all the content before the user logs in. It is a good idea to let the users navigate through much of your app without logging in. The login screen can be an obstacle to continue using your app.